Zinc Air Battery Technology for Solar Energy Storage
Zinc air batteries may hold the key to large scale energy storage for solar power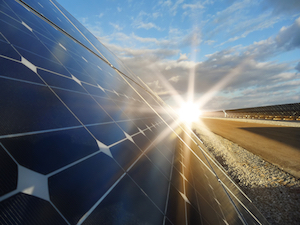 The large-scale adoption of solar and wind, two of the most popular renewable energy sources, requires massive energy storage systems. And the high-cost of energy-related metals like cobalt, vanadium and lithium makes it expensive to produce storage batteries. But zinc air battery technology offers a viable alternative solution.
Growing Demand for Renewable Solar Energy
The demand for clean, renewable energy in North America and around the world is as strong as ever. A new report from research firm DGA on the growing demand for renewable energy finds that 83 percent of major U.S. and global manufacturers have set targets on greenhouse gas reduction, and 25 percent of manufacturers have already established renewable energy. The report finds that leading companies like Anheuser-Busch InBev, Nestle, Nike, Unilever, and VF Corporation have 100 percent renewable energy commitments already in place.
Manufacturers that buy renewable energy from nearby solar and wind farms can increase the resilience of the grid and help support local economic development. The ten year global trend of solar capacity shows an increase to almost 400 GW in 2017, from under 10 GW in 2007, according to the International Renewable Energy Administration. And if a change in public sentiment towards renewable energy isn't enough to drive solar demand even higher, President Trump's protectionist decrees surely will.
Trump recently imposed a 30 percent tariff on imported solar panels in an attempt to protect American jobs. The tariffs have been equally criticized and applauded. While an increase in consumer prices is expected, so is an increase in domestic production, which would add to the "new era of power generation" that saw solar power become the world's fastest-growing source of new energy in 2017.
"What we are witnessing is the birth of a new era in solar photovoltaics [PV]," says Dr. Fatih Birol, executive director of the International Energy Agency.
"We expect that solar PV capacity growth will be higher than any other renewable technology up to2022."
Challenges in Large-Scale Energy Storage
Storing energy on a mass scale is among the challenges that come with the growing demand, and production, of solar energy, as well as demand for transparent ceramics needed to transport energy sources.
Developed western nations often account for the largest portion of the demand for transparent ceramics because of their increased use in the aerospace and defense industries. Most transparent ceramics production facilities find it difficult to expand geographically because of the high transportation and logistics costs. This is aggravated by the fragility of ceramic materials, so safe transportation of these materials is a concern.
"Intermittency" is also known to be one of the main barriers to large scale solar deployment. It's the variability of energy output from solar sources that inevitably produce irregular or disrupted patterns of electrical output. For instance, solar energy needs light to operate at maximum capacity, which isn't always available. The one way to compensate for intermittency is by backing up solar energy with an alternative energy supply, like battery storage.
But issues with traditional battery components lithium, cobalt and vanadium, leave the solar industry looking for an available, low-cost solution.