Vanadium weekly review (March 19-23, 2018): Vanadium supply tightness on raw materials sharpens
Date: Mar 23, 2018
www.ferroalloynet.com: This week the supply of vanadium raw materials becomes tighter. Jianlong increased V2O5 flake price to 188000 rmb/ton with tax and then Tranvic and Desheng follow the trend. Pangang also rised the prices of ferrovanadium and vanadium-nitrogen, underpinning the market. Chinese vanadium market comes under adjustment now, waiting for the biddings next week.
Steel mills' bidding prices
| | | | | |
| --- | --- | --- | --- | --- |
| Company | Product | Price (RMB/TON) | QTY (TON) | Basis |
| Xinxing Ductile Iron Pipes | Vanadium-nitrogen | 291500 | 30 | Acceptance, tax inclusive |
| Hebei Jingye | Vanadium-nitrogen | 296000 | 20 | Acceptance, tax inclusive |
China vanadium market review
China ammonium metavanadate market
Ammonium metavanadate prices have increased slightly this week. Manufacturers quote at 180000 rmb/ton or above and downstream buyers also accept this price level. After all, the operating rate and the output stand at lows, and the factories extracting vanadium from stone coal mostly are yet to resume. The recovery production situation is Hunan and Shanxi is given much attention.
China vanadium pentoxide market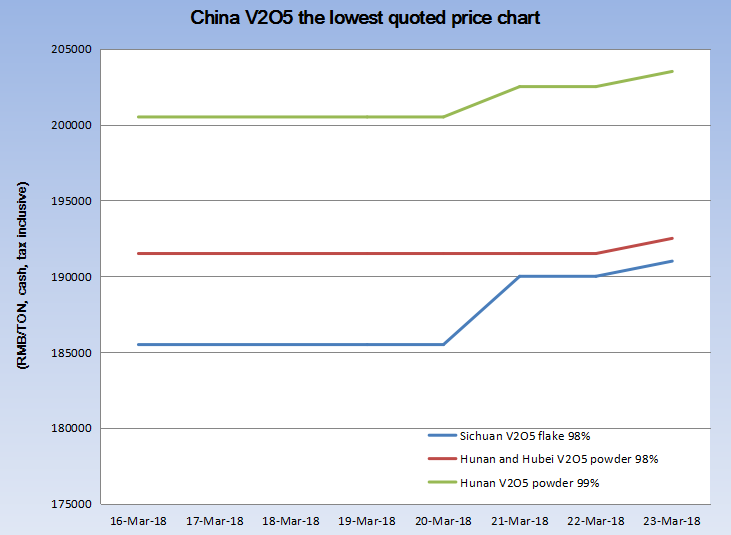 Major suppliers quote V2O5 flake at 188000 rmb/ton with tax, while other suppliers quote at a higher level of about 200000 rmb/ton or above. It is reported that the price at 195000 rmb/ton with tax has already been accepted. Amid supply shortage, buyers show much intention of procurement but remain cautious about the high offers before the bidding prices are issued.