Vanadium Demand Driven by Large-scale Energy Storage Market
Vanadium is quickly becoming a critical material for the renewable energy revolution, and investors could be positioned to profit if this trend continues.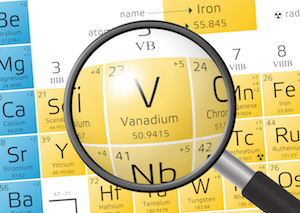 The energy storage market is continually influenced by innovations and discoveries in the battery metals space.
Beyond lithium and cobalt, other metals, such as vanadium, are emerging as high-performing alternatives for energy storage. Despite limited mined resources, vanadium demand is on the rise as further uses for the metal are uncovered.
Tight supply and strict regulations impacting price
Vanadium prices have soared more than 130 percent in the past year — outperforming cobalt, lithium and nickel — thanks to tightening supply and strong orders from the steel industry, which accounts for 90 percent of demand. Vanadium is also used in alloys of titanium. Only a small amount of vanadium is needed to significantly increase the strength of steel or titanium, making it useful in jet engines, high-speed aircraft, gears, axles, crankshafts, superconducting magnets and ceramics.
Roughly 85 percent of the world's vanadium is produced in China, Russia and South Africa. Since the bulk of the metal is either mined or produced as a by-product, any changes in the iron ore and steel markets are crucial to vanadium production.
For instance, last year production was halted in part because of the closure of Russia's Kuranakh mine, which shut due to low iron ore prices and produced no material in 2017. The Highveld Steel & Vanadium mine in South Africa also shut down in 2015 for two years, affecting supply chain structure.
In China, stricter standards on rebar in earthquake zones and tighter regulations on the use of all substandard steels were announced in February. The new rules increase the vanadium content in rebar products to make them stronger. An official at the China Iron & Steel Research Institute estimates the move could increase vanadium consumption by 30 percent, or 10,000 tonnes per year. The enforcement of these regulations is playing a role in vanadium's recent price gains.
But analysts are expecting a shift in how vanadium is used. With governments investing billions into renewable energy, vanadium is sought after for use in large-scale battery storage systems that can support the world's biggest renewable energy projects.
Vanadium redox flow batteries in energy storage
Large-scale energy storage is a favorite topic of futurists, and justifiably so. It's been touted as the missing link between renewable energy sources, like solar and wind, and around-the-clock 24/7 reliability. The market for large-scale energy storage systems in the US is projected to reach $2.5 billion by 2020 — six times as much as in 2015.