How Strong Steel Might Kill Off the Next Big Battery Metal Story
Date: Oct 23, 2018
Vanadium's astonishing rally is threatening its chances of being the next big battery metal.
Prices have surged more than 800 percent in about two years, driven by Chinese demand for stronger steel. There's also been speculation that vanadium will become a key metal for the battery industry. But with prices now at extreme levels, it could be too expensive, according to Evraz Plc, a Russian steelmaker and one of the top producers of vanadium.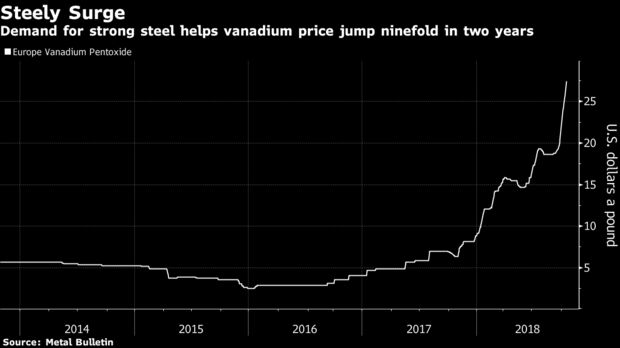 Steelmaking accounts for almost all demand for vanadium, an obscure silvery-grey metal thought to have been used in steel as far back as the Middle Ages. China, which makes half the world's steel, is set to implement new rules next month requiring steel used in construction to be stronger. And that means using more vanadium.