Vanadium weekly review (September 10-14, 2018): Vanadium market soars again as continued supply concerns and increasing consumer demand
Date: Sep 14, 2018
www.ferroalloynet.com: Vanadium market sees the constant supply tightness and the high spot demand, thus the overall vanadium prices are increased obviously, including vanadium ore, vanadium slag. Steel mills are actively making purchasing and inquiring, and traders also follow the trend. However, amid the quite high purchase demand, the market falls into the stat of tighter supply and lower stocks. Environmental inspections still restrains the production of ammonium metavanadate greatly, and many factories have suspended or reduced production successively. The downstream consumers can't guarantee the supplies of raw materials, so they are cautious in signing orders. Some manufacturers intend to stock up goods, waiting for the further price increase.
Steel mills' bidding prices for September
| | | | | |
| --- | --- | --- | --- | --- |
| Company | Product | Price(RMB/TON) | QTY(TON) | Basis |
| Hebei Jingye | Vanadium-nitrogen | 425000 | 20 | Acceptance, tax inclusive |
| Shaanxi-based steel mill | Vanadium-nitrogen | 423000 | 40 | Acceptance, tax inclusive |
| Anhui Changjiang | Vanadium-nitrogen | 419000 | 70 | Acceptance, tax inclusive |
| Fujian-based steel mill | Vanadium-nitrogen | 428000 | 40 | Acceptance, tax inclusive |
| Jiangsu-based steel mill | Ferrovanadium | 277000 | 30 | Acceptance, tax inclusive |
China vanadium market overview
China ammonium metavanadate market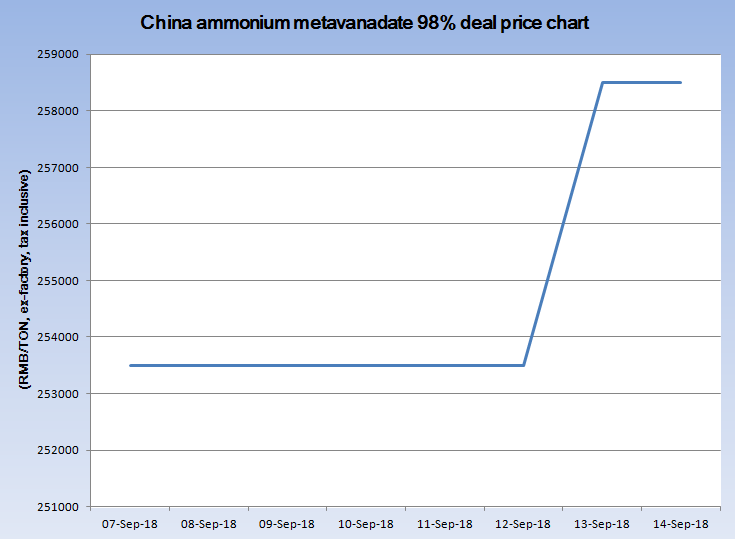 Ammonium metavanadate prices have risen to 255000-262000 rmb/ton by cash from 251000-256000 rmb/ton by cash. The quotations continue to move up and there are many transaction reported at high price. The prices may continue the uptrend next week.
China vanadium pentoxide market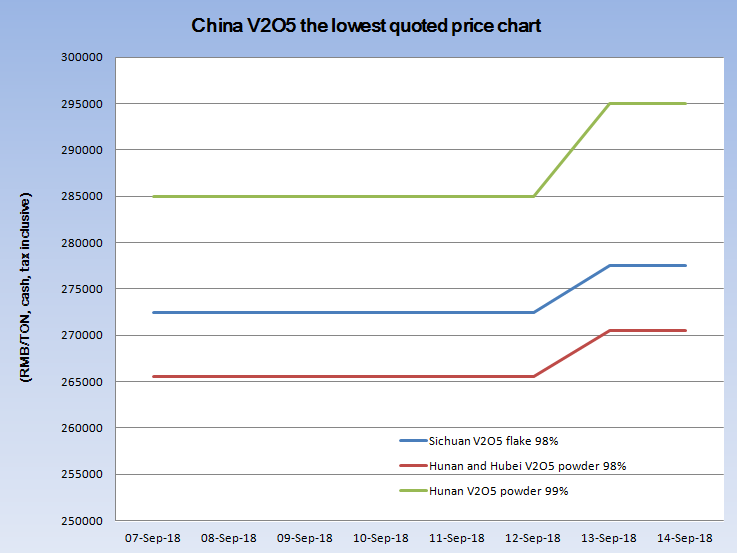 The market prices of vanadium pentoxide flake also follow the uptrend this week as Jianlong is the first to increase prices to 280000 rmb/ton by acceptance, up 10000 rmb/ton. Tranvic and Desheng haven't change the prices yet but they may have put the price increase on the agenda. Vanadium pentoxide powder market also faces the supply tightness and the offering prices keep moving up. Thus, vanadium pentoxide prices are likely to remain the uptrend.