The Vanadium Production From Four Global Vanadium Producers In Q3 2021
www.ferroalloynet.com: The overall vanadium productions for Largo and Bushveld were increasing in Q3 2021 while the productions from Evraz and Glencore dropped a bit in Q3 2021.
Evraz
In Q3 2021, its external sales of vanadium products fell by 11.8% QoQ to 2864 tons, mainly because of reduced global demand from the automotive sector amid the semiconductor shortage and slowdowns in the Russian oil, gas and rail sectors. In addition, some global steel mills scheduled major maintenance during the summer months.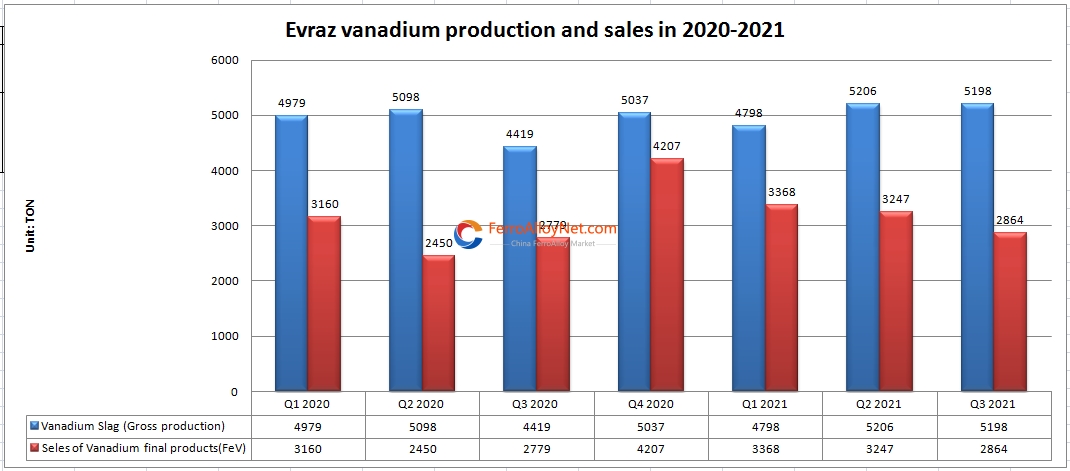 Largo Resources Ltd
Its V2O5 production was 3,260 tonnes (7.2 million pounds1) in Q3 2021, a 5% increase over Q3 2020 and 6% above Q2 2021 and it sold 2,685 tonnes of V2O5 equivalent from its Maracás Menchen Mine in Q3 2021. And total V2O5 equivalent sales were 2,685 tonnes in Q3 2021, a 16% increase over Q3 2020 and 11% below Q2 2021 due to logistical challenges. The strong production performance during the quarter was largely driven by increased throughput and improved recoveries following the completion of the Company's expansion project in Q2 2021. Despite improved production results and steady vanadium demand in all regions, the Company experienced logistical challenges which resulted in lower sales for the quarter.
Besides, the Company's full-year V2O5 equivalent production and sales guidance has been lowered to the range of 11,400 and 11,800 tonnes and 11,200 and 11,800 tonnes, respectively. These adjustments have been made to reflect the Company's operational performance to date and account for the global logistical challenges expected for the remainder of the year. The Company expects to exit the year with a solid quarter of production and sales results in Q4 2021.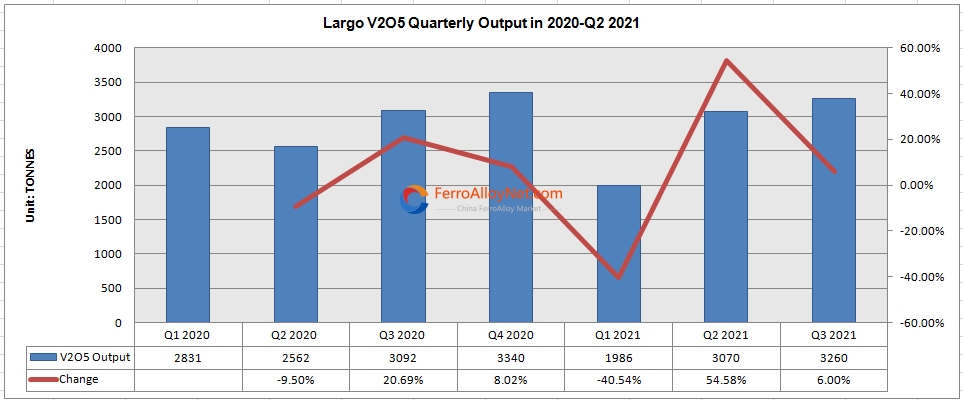 Bushveld Minerals Limited
In Q3 2021, group production was 1,056 mtV, an increase of 19 per cent on Q2 2021 (Q2 2021: 886 mtV), underpinned by continued operational stability at Vametco. Group production for 9M 2021 of 2,629 mtV, was two per cent lower than 9M 2020 Group production of 2,680 mtV, as a result of lower production volumes at Vametco during the H1 2021. And now it is on track to meet 2021 Group production guidance of between 3,400 mtV and 3,600 mtV.
Company

Location

Products

Q1 2020 

Q2 2020 

Q3 2020 

Q4 2020

Q1 2021

Q2 2021

Q3 2021

Bushveld

Vanchem

V2O5, FeV

219

212

294

261

293

293

291

Vametco

Vanadium (Nitrovan plus FeV)  (mtv)

652

566

725

703

395

593

765

Total

871

778

1019

964

688

886

1056
Glencore
Vanadium pentoxide production of 15.2 million pounds was 1.6 million pounds (12%) in Q3 2021, higher than the comparable 2020 period, also reflecting the national lockdown in the base period.

www.ferroalloynet.com